Welcome to the latest edition of our briefing for Scottish Local Authorities.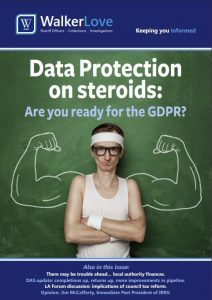 Click here to download a digital pdf
This edition focuses on the Local Authority Forum held in November 2016.
We were delighted that Jim McCafferty, Immediate Past President of the IRRV, Ross Nicol, Partner, McLay Murray & Spens and Kelly Quigley, AIB Head of DAS and Trust Deeds, could join us on the day.
Each of the guest speakers provided a range of insights and informative talks which the Local Authority delegates discussed during the workshop discussion session.
Issues covered during the sessions included the challenges faced by Local Authorities in delivering local services, the impact of the GDPR (the replacement for the Data Protection Act 1998) which will come into force in May 2018, and the current DAS caseload and the improvements to the scheme that are in the pipeline.
Click on the links below to download a pdf to read on your desktop, tablet or mobile